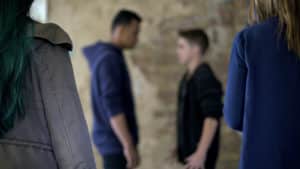 Bullies hate competition, especially when it's their target or any person they deem inferior who bring the competition. Oooo! Talk about a blow to the bully's ego. Ouch!
Understand that any successes or accomplishment achieved by the target is seen by bullies as a threat to their superiority because the bullies' sense of self-worth is drawn from a sense of winning over and one-upmanship.
Therefore, if the target makes a huge accomplishment or wins any kind of award or prize, bullies will see it as competition with them. As a result, the bullies will escalate the bullying to punish the target for the success.
Bullies will get angry and say things like:
"You think you're (smarter, better) than us…"
"You think you're (smart, pretty, badass, hot stuff, god's gift to the world, etc.)"
I've come to realize that any time a bully makes any statement that begins with, "You think you're…," it means jealousy, anger, or resentment of the target for a success or desirable characteristic or quality the target has. No more, no less. Always!
Understand that those three little words can say so much.