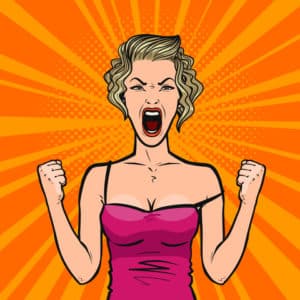 I can tell you what happened when I deleted one of my former classmates. Before I go any further with my story, I'll tell you this.
Nobody likes being rejected and dismissed – especially by someone they think is inferior to them. That's a blow to the ego like one other!
When a bully gets dismissed by the victim, he thought for so long was too weak to stand up to him, oh my God! He. LOSES it! Why? Because in an instant, the victim finally stood his ground, he snatched his power back and left the bully powerless over him for once! Now the bully must go through the headache of finding a new target! Gasp!
This is precisely what happened with my old bully classmate when I unfriended her for a few offhand and snide comments she made on a few of my posts. She became furious! She couldn't stand it! And I've got to tell you. I'm laughing as I'm typing this and thinking back about two years ago.
This half-crazed woman blew up my inbox. And with such vitriolic rage!
Oh, my goodness! How dare I! The nerve! The audacity! The chutzpah of me! O-M-G! I'm such a fake! I'm such a pissy person who deleted her because I got called out! Oooooo! Poor baby! I'm such a weak little bitch who can't take constructive criticism!
Those were her words before I laughed and pushed that little godsend of a block button. I would've pushed the button sooner, but to tell you the truth, I was getting a real kick out of her reaction, and I wanted to give her time to shoot herself in the foot. Sure enough, she did.
I took screenshots of her messages, one in which she repeatedly asked, "Why did you delete me?", then plastered them all over the internet. The icing on the cake was that the other classmates saw the screenshots too and they were shocked.
Knowing she'd been punked before the eyes of some of her old high school buddies, this she-bully went even more berserk. And it was so fun to watch!
I kid you not. There wasn't enough popcorn in the world!
You see, this woman thought that I was weak in high school and never bet on the possibility that I might have smartened up a little in the three decades since. So, I went ahead and let her assume what she wanted and trapped her with it.
Realize that anytime you reject a bully, you immediately take your personal power back and you automatically put the bully in a position of weakness- you put her in a position of inferiority. You flip the script and take the position of power over the bully. This is why bullies cannot handle rejection because they feel that they must always be in the position of power in a relationship, especially the bully/target relationship.
I want you to know that standing up to and ditching a bully isn't as hard as you think. It's quite easy if you don't let fear or any intense emotion get in your way. Remember that bullies get their power from getting you emotional. And when you finally come to a place where you're no longer intimidated or angered by them, the better you'll be able to use your head, find some leverage, and use it as a weapon.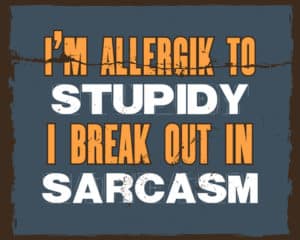 You must understand that when bullies fly into a rage, they no longer have the ability to think clearly. You then have the opportunity to use it to your advantage and make them look like a complete doorknob.
With knowledge comes empowerment!