Bullying and personal freedom can never coexist. Why? Because bullying is zero sum. Always. When you suffer from bullying, it's akin to people holding you hostage. In essence, they bind and gag you.
Either you're free to be yourself, to speak your piece and to be safe and secure, or people bully you for daring to exercise those freedoms. You either have personal power or people bully you and take away your personal power. Either you're free to be a human being, make mistakes, and more importantly, learn from those mistakes, or people bully you for it.
They brutally punish you for making mistakes that anyone else could've made. Moreover, someone else more than likely would have gotten the consideration that they're only human and that all humans make mistakes.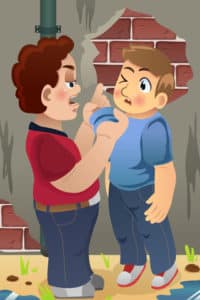 Bullying takes away your humanity
For targets, however, there's no margin for error. On the other hand, if you're fortunate enough to be on equal footing with everyone else around you, you have that luxury. people will look at you and realize that we're all imperfect humans. Therefore, they'll cut you some slack.
Understand that bullying dehumanizes its targets- others either see you as a human being or they don't. Bullying will strip the target of any shred of humanity and render him sub-human in the minds of not only bullies but, in many cases, bystanders.
Moreover, this process can happen quickly, in as little time as a few months. People bully you so frequently that bystanders grow and become desensitized to it. And why not. They watch them brutalize you every day, sometimes several times per day. And the reality is that no one likes nor has any respect for a victim.
In your mind, you may not be a victim but a target. And that's a good thing. However, because others see you being disrespected and beat down all the time, they will view you as a victim. And most people don't have the critical thinking skills to know the difference.
Therefore, you must document everything that happens and document it in detail. Or you must find a way to leave the bullying environment. Otherwise, if it goes on long enough, it will take a toll on your mental health. People such as these are dispensable, your mental health isn't.
With knowledge comes empowerment!