The survivor of bullying who escapes the abuse first comes out with shock, anger, and sadness. But once the healing is underway, they're filled with renewed hope.
When school or workplace bullying experiences have exposed you to the darkest sides of human nature, you have a stronger sense of your own endurance and capability. This is all because of what you have endured and were able to overcome.
You never know your own strength until you've overcome bullying, especially severe and chronic bullying.
Another takeaway is that the survivor has a stronger sense of people. She can smell fakery and BS from a mile away and can spot bullies before even talking to them. The survivor pays closer attention to how people carry themselves, body language, and the vibes and energy others put out.
He is better able to avoid people who might want to harm him because he's learned, the hard way, the importance of listening to his gut instinct and heeding it anytime something is even the slightest bit "off" about a person. In short, the survivor of bullying has learned that it's okay, even paramount, that he trusts himself, and in that, his feelings and judgement.
On the other side of bullying, a survivor learns and develops the determination never to conform to the standards and criteria of others, but to live life on her terms because she knows what it's like to be a slave to the approval of others. She knows what it's like to be a prisoner to outside influences. She knows the powerlessness of having one's pleasure depend of the permission of others. She knows what it's like to be forced to apologize for simply being who she is and she's not having any of it!
Overcoming past abuse gives the survivor a restored and refined sense of his worth and knowledge of the immense value he brings to this world. He awakens to his goodness and realizes that yes! He is worthy of love, friendship, affection, and of all the best things in life. He also realizes that he is loved and always was no matter what all those vile people told him!
The survivor of bullying ends up with a much clearer vision of what she will not tolerate nor settle for. She is unmovable in her refusal to kiss arse or bow down to anyone no matter what the cost may be. She's spent enough years living on her knees and if she's going to be punished for her unwillingness to kowtow, she'll suffer those consequences standing up.
The survivor of bullying is also a fierce warrior for other victims. If he sees another person being bullied, he's will stand up for that person and go toe to toe with the bullies to protect the target.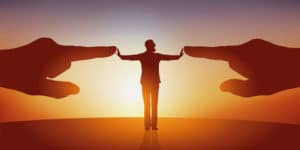 The survivor who has overcome bullying isn't afraid to say no, nor to walk away from any relationship that doesn't fulfill and nourish him. He refuses to be stuck in any environment that doesn't allow him to grow and flourish.
The survivor is more aware than ever of what she deserves and goes after it with resilience and tenacity. Life's given her enough of what she doesn't want and now it's time for her to go get what she knows is due her.
The survivor realizes, probably more than anyone, that life is short, and you only get one shot in this world. And she works diligently to create the life she knows she deserves, and she does it without guilt. She knows that she's not entitled nor privileged. She realizes that the big bad world owes her nothing. And that's okay.

The survivor realizes that there's no such thing as a free ride because, heck, no one ever gave him anything but hell. What he understands more than anything as that all you have is you and the only person you can depend on is you. So, he knows that reaching his goals and dreams is up to him and him alone. And he works toward what he wants with a fervor.
The survivor of bullying makes it a point never to take anyone for granted but lets her family and friends know that she loves and values them. Why? Because she knows what is like to be alone, unwanted, and abused and she would never want anyone- especially the people she cares about feel that way or endure it.
The survivor of bullying savors every wonderful moment, every positive encounter, and every happy event because he has seen enough negativity.
What the survivor enjoys more than anything else is wonderful relationships and happy moments, and most of all, she's grateful for them. She also enjoys helping others who go through what she once endured. And she uses her experiences to encourage them and give them hope.
Sometimes, you must be torn down to be built up again. Sometimes you must first be dejected and left lonely before you can truly appreciate the family and friendships you have later. And sometimes, it takes being forced into the chains of others' approval and validation before you can enjoy the freedom of self-love and the indifference to the opinions of those who don't matter and, perhaps, never should have mattered.
With knowledge comes empowerment!