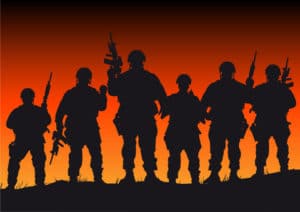 Popeye put his earpiece back in as he drove.
Miles took his phone out and pulled up his homing app. A map of Thomasville appeared on the screen. He then zoomed in on the red pointer on the map and six homing beacons appeared, representing Chris and the rest of his group. When Miles zoomed back out, he saw two more homing beacons on the other side of the screen, representing Cindy and Shannon, who were still waiting in Atticus's SUV, parked in an alley across from the courthouse.
"Well, I can see all the homing beacons and so far, there's no distress signal," Miles assured.
Alvin put his hand on his chest, letting out a sigh of relief.
Good Signs
Just then, they came to a small clearing. Sitting in the passenger seat, Alvin looked across the field to see that it was dotted with hey bales. Beyond the field, he could see a thin line of trees and the lake beyond them.
"We're here," Alvin said, "Chris, if you can hear me, we've passing the Elysian Fields now."
Chris' voice sounded over everyone's earpieces amid the crackling static.
"Alvin, did you say Elysian Fields? Alvin, can you hear me? Alvin!"
"Yes, Chris! We're here! We're gonna find a place to hide where we can still watch the entrance to Opaque Lake!" Popeye answered
"I can't hear you, Popeye, Alvin. Shit! You're breaking up!"
Miles' eyes grew wide as he looked back at his screen.
"Shit, those homing beacons are moving a lot faster now. Either they've been captured, or they may have found a couple of vehicles down there somewhere and took off in them. I sure hope they didn't get caught." He said in a tone of concern.
"Are there any distress signals?" Jo asked.
Signals
"No distress signals, they're just moving a lot faster than they were a while ago and they're divided into two groups of three, one behind the other, and moving in the same direction. They're moving west so they're headed for the bluff.
"Let's just find a place to hide this car. We'll worry about it when we're in place," Popeye said.
Popeye turned onto a long gravel road across from the Elysian Fields and the Lake. He drove about a quarter mile before finding a thicket of tall bushes about a mile away. He drove the dark blue Escalade behind the bushes, then backed up and pointed the nose directly between two bushes in the thicket, where he could see the Elysian fields and the lakeshore beyond it.
After shutting off the engine, Popeye reached over and opened his glove compartment. He then pulled out a pair of small binoculars and pulled out the eye cups. Next, Popeye switched to night-vision and placed them up to his eyes, adjusting the diopter to get a clearer image and better focus.
Keeping a Lookout
With the binoculars that were hung around his neck, Alvin also watched the field. Miles and Alexandra quietly climbed out of the vehicle, each having their own pair. They got down on the ground, on their bellies, then did an Army crawl under the bushes before beginning their watch. Oliver and Jo just sat there, squinting while watching with their naked eyes.
Back in town, in the alley across from the courthouse, Shannon and Cindy sat parked and with the engine off. Shannon in the driver's seat and Cindy in the passenger, they listened carefully as the static grew in their earpieces and the voices faded out.
"Damn it!" Shannon said as she took her earpiece out in frustration, "We didn't think about the bottoms being pretty much a dead zone!"
"Yeah, I just hope and pray they'll be alright," Cindy added with a sigh.
All was quiet except for a multitude of sirens in the distance. The streets were pitch dark as the power outage had taken out all the street lights, leaving the whole of Glover County in the middle of an unprecedented blackout.
Spied
Suddenly, the two women heard the distant drone of a car getting louder and louder. Shannon and Cindy looked at each other, then Shannon looked through the rearview mirror and noticed the entrance of the alley behind them. They could see outside the alley and the beam of head lights getting brighter until what looked like a cop car stopped just outside the alley with its spotlight shinning right on the vehicle they sat in.
"Ooooh, shit!" Shannon said in a loud but low voice.
"Holy fuck!" Cindy cried.
"What are we gonna do now?" Shannon asked in a warning tone.
The ladies watched through the side mirrors as the dark figure of an officer got out of the cruiser and the sounds of footsteps clicked in the quiet.
They immediately took off their masks and caps then quickly tossed them under the seats before ruffling their hair with both hands. One of Atticus's huge flannel shirts and a small blanket lay in the floorboard. Shannon reached back and grabbed them both.
A Clever Cover
"Put this flannel shirt on over that black turtleneck and your ammo belt! I'll use this blue throw as a shawl!" She advised. Cindy did as Shannon suggested.
The footsteps grew louder, and the officer clicked on his flashlight and shone it on the vehicle as he came walking down the alley toward them.
Cindy looked at Shannon.
"I've got an idea! Don't say anything, just go along!" Cindy whispered loudly as she leaned toward Shannon, grabbed her by the back of her neck, then pulled her toward her. Shannon's eyes widened, nearly popping out of her head and she just froze as Cindy put her in a lip lock and put a hand on one of her breasts, caressing it.
Cindy still had Shannon in the lip lock when the mystery officer, who turned out to be a rookie deputy, shone his flashlight in the window. His eyes widened face turned red as he stifled a grin. Shannon spun around and lower the window.
"Can we help you, officer?" she asked with a fake but genuine looking smile.
"Um, uh, ladies, we have several inmates on the loose," The young deputy stammered, unable to contain his shock and embarrassment, "There's a huge manhunt and it's covering all of west Tennessee. You need to get home right away."
A Huge Shock 
"Oh, shoot!" Shannon said, acting surprised, "Thank you so much, officer, we'll be on our way."
"Have fun. Don't do anything I wouldn't do," the deputy quipped with a grin before turning and walking back toward his car.
Shannon cranked the ignition as she watched the officer get into his vehicle and pull away. She then began frantically wiping her mouth with the back of her wrist and forearm.
"Ptu-Ptu-Ptui!" Shannon spat as she pulled a wrinkled up napkin out of her pants pocket and spat into it. "Blechhh! Shit, Cindy! What in the blue blazes was that!" Shannon retorted.
"Well, I kept us from looking suspicious and going to jail, didn't I!" Cindy shot back.
Shannon looked at Cindy and Cindy returned the look. They both then chortled, then gave a little chuckle. Suddenly, they burst into loud cackles before Cindy spoke.
"Boy, we're going to have a hell of a story to tell when this is over!" Cindy giggled as Shannon pulled the vehicle out of the alley.
As Shannon drove, Cindy looked at her. Shannon looked at the dashboard clock. It was a quarter after nine.
A Change in Plans
"Chris and Atticus told us to stay put. You know that, right?" she said.
"Yep. But they didn't count on us being spied by the cop. So, there's been a slight change in plans," Shannon replied.
"So, where are we headed?" Cindy asked.
"To the bottoms. I figure that if we go there, we're least likely to be seen."
"I just don't want to do anything to blow our cover or Popeye's. And what if Chris and the rest need to come back in a hurry and find that we're gone?"
"I don't think they will. We lost contact with them so they're probably in the bottoms too by now."
Finding Raina
In the dungeon, Brielle awoke to check on Raina. She too was asleep and breathing normally. Brielle checked Raina's wounds and raised the cover over her to make sure she was warm. Suddenly, she heard the doors slam shut and the sounds of jingling keys and approaching footsteps.
Brielle remained crouched beside Raina and continued to listen carefully until one of the deputies, a short, rail-thin young man, appeared outside the bars.
"Looks like I'm gonna need to leave y'all here by yourselves. There's been a prison break in Sugar Village and the sheriff needs every warm body he can get. Don't worry. You'll be just fine and we don't have to worry about you pus-bags going anywhere. You'll never make it out of these caves," The deputy sneered.
"Well, before you go, you need to check on my cellmate in here. She doesn't look like she's doing too well. She may need medical attention," Brielle told him.
Tricked
The deputy unclipped a huge ring of keys off his belt loop and took about thirty seconds to search for the right key. He then unlocked the cell and came inside. As he stood over Raina and smirked, Brielle suddenly and swiftly made her move.
Without warning, she swept the deputy's legs and feet out with one foot, then scissored the deputy's neck between her legs, rendering him unconscious. Next, she stripped him of his uniform, keys, and gun belt. Brielle changed out of her clothes, into the uniform and cap, being sure to tuck her long, blonde ponytail inside the cap. She then grabbed the keys, put on the belt and holstered the gun. Finally, she unlocked her cell.
Brielle looked back at Raina.
"Hang on, girl! I'm coming back for you!" she promised before running to Big Bruce's cell and unlocking it.
Big Bruce awoke and sat up.
"What the…!" He grunted.
"Relax, Mr. McCauley! It's me, Brielle!" she whispered, "Raina's hurt! Get her and carry her out of here! I've got to go find the kids!"
Big Bruce Free
And she unlocked the second set of doors and crept out of the cell block. Now she was in the main tunnel, on the access road. She remembered passing another set of double doors on her way to the cellblock when Bobby, Misty, and Ashton had brought her to her cell, so, she ran about fifty years up the access road.
When Brielle came upon another set of steel double doors, she grabbed the ring of keys. It took her about a minute to try about ten keys before she fumbled and accidentally dropped the ring of keys.
"Shit!" She swore as she knelt and swiped the keys off the dirt floor.
Because the corridor was so dimly lit, it was difficult to see the keys in her hand as she had to start over and try each key. It took her about five minutes but she finally found the key that fit the lock, which happened to be the very last key on the ring.
An exhaled sigh of relief blew out of her lungs as she turned the key, the lock clicked and gave way, and the door opened.
Another Setbof Double Doors
As Brielle hurried down the cell block, a voice cried out,
"Who is that! Who is it!"