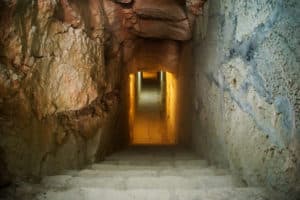 Back at the Carpenter estate, Atticus, Grandma Bennett, and the rest gathered in the living room after Jane cried herself to sleep.
"We've got to find Brielle!" Grandma said in an urgent tone.
"What if they've found her first?" Kim asked.
"We'll check the jail first thing," Chris suggested, "If she's not there, then we'll know."
"Maybe not. Those tunnels that Jane was talking about, what if they took her there?" Shannon asked.
"Well, at least we know where to start from- the courthouse basement. We follow the underground highway to where it ends- at the foot of the bluff, in the bottoms. Now Jane said that they were near the shore of a huge Lake," Chris said.
"Opaque Lake. It's got to be," Grandma Bennett said.
The Secret of Opaque Lake
"Yep," Atticus agreed, "That place is posted- deemed private property. 'Has been for about thirty years. Now that you mention it, there have been rumors that there's a Luciferian cult down there and that's why they've blocked it off. The place is heavily secured. Outsiders are strictly forbidden to trespass there."
"Atticus is telling the truth," Popeye confirmed.
"Then that's got to be the place," Daniel concluded.
"And this underground road is the only way you can get there?" Miles asked.
"Nope. There's another way. Take County Route 16 West, toward the river. Go down the bluff to the bottoms, then drive about three to four miles and you'll see the Lake off to your right. You'll look across a clearing then see trees and little glimpses of the lake beyond them. There will be a gravel road that will take you to the shore of the lake and there will be lake houses high on stilts there because it's a very flood-prone area. But, like Atticus said, the place is off limits to outsiders," Shannon told them.
Private Property 
Suddenly, Alexandra and Jo came through the back door.
"Whew!" she said as she took off her hoodie to reveal a white tee shirt.
Everyone turned around to see her.
"Well, Alex? Did you and Jo hear anything?" Chris asked.
"Oh, we heard a lot. But not a peep about where the kids are. But I did see a couple of deputies in one of the restaurants I sat in. One of them got a call and when he hung up, I heard him say, 'They got her! They finally found the bitch,'" Alex informed them.
"My gut tells me they were referring to Brielle," Jo added.
"Oh, they had to have been talking about Brielle!" Kim said.
"So, how are we going to get inside the jail to see if she's there?" Shannon asked.
Another Plan
"I'll go there," Popeye volunteered, "I have several cousins and friends that have been in and out of there. In fact, a cousin of mine was just released the day before yesterday. And most of the jailers are young rookies and they know me, so they trust me. I can take a change of clothes, some food, something in there and make them think I'm there to deliver it to a relative of mine. They usually have a list of inmate names on a huge whiteboard on the wall just behind the desk where you leave stuff for the inmates- one list for males and the second for females. They have you wait there while they check your stuff for contraband. And, even if he's not there, I'll still have time to see if Brielle's name is on the inmate list."
"That doesn't sound like the jail I spent time in six years ago when I was here," Shannon recalled.
"They've revamped everything in the county jail since you were there, Shannon." Grandma Bennett said, "After Johnny went to prison, Sheriff Crawford did an overhaul of the jail inside the sheriff's department. He fired most of the jailers there and replaced them with new blood. Yeah, Bobby's got it now, but it still isn't quite as bad as it was when Johnny had it."
Shannon Remembers her Stint in Jail
"Awesome! Popeye, you and I go to the jail. I'll wait in the car while you go inside and do your thing," Chris said.
Grandma Bennett brought a big basket of freshly baked blueberry muffins to Popeye.
"Take this. I brought these from home when I got here. They were for everyone to eat here. But they're the perfect food to take to the jail and will be the perfect cover," she said.
"It's awful late. You can't go there this time of night. Hell, it's after midnight!" Atticus told them.
"There's people dropping stuff off at that jail at all hours," Popeye said.
"Even after midnight?" Miles asked, barely able to believe it.
"It's a small Podunk town and a small, Podunk jail! It's not like the big city. Some things, they let fly around here," Popeye replied.
"Oooo-kay," Chris said, "'You ready to boogie?"
"Let's boogie," Popeye answered.
Getting the Information 
Two hours later, Chris and Popeye returned. Popeye handed the basket of muffins back to Grandma Bennett. Jane had awoken, hardly able to sleep.
"Is she there?" Grandma asked.
"Nope. Her name wasn't on the inmate list," Chris answered solemnly.
"Believe me, I looked that list up, down, and sideways. Her name wasn't there," Popeye swore.
"Then where could they have taken her?" Kim asked, worried.
"Do you think that maybe they might have taken her through the underground tunnels too?" Cindy asked.
"It's likely," Chris said.
"I just thought of something, y'all." Popeye said, "Halloween's tomorrow night."
"Yep, the cult will be doing their annual Halloween Rituals. We've got to find Brielle and Raina, and we've got to find those kids!" Kim said.
"Well, let's get some sleep. After we wake up, we formulate a strategy. After dark tonight, we do some snooping. Maybe they can send more people to help us out. Then at five tomorrow night, we move out," Chris said.
Daniel's Government Connections
"In the meantime, I'll see if I can't contact a few politicians and old CIA buddies, a few of the good ones left who I know are fighting against child trafficking. This is a pretty big job, Chris. We still don't know how many local big shots are involved in this and they may have connections to even bigger people." Daniel added.
"That might not be a bad idea," Atticus agreed.
"Jane! Come here for a sec!" Chris called.
"Yes?" Jane responded as she approached.
"Do you remember the route the sheriff took to get to the dungeon where you and the rest of the kids were held?"
Jane Describes the Layout of the Secret Tunnels
"We took the underground access road. There were tunnels but they loaded us all into a van and took us to an exit via the access road. We didn't take any of the tunnels," Jane told them. The access road only took us to a set of double doors. When the doors opened, we were outside and the area around us was flat. I look back and we'd come out of a huge bluff from what I could tell and the doors were covered with trees and bushes. The untrained eye wouldn't even know those doors were there. We pulled onto a dirt road, drove about, I'd say 50 yards, then turned until a two-lane highway. I remember passing a highway sign with a shield and a number 16 on it. We crossed a bunch of bridges over creeks and streams, then came to a field and pulled onto a gravel road. I noticed that the field had a bunch of hey bails in it. And there was a pile of hey on that gravel road. The front of the van we were in was pointed toward the lake. One of the deputies got out and cleared the hey off the road. He uncovered some sort of platform. After he cleared the hey, we pulled onto the platform and stopped. That's when we were lowered underground to another access road. Once we got going again, I noticed that we were driving downward, like going down a steep hill. I could feel the gravity pull. And we didn't make any turns nor go around any sharp curves, so I think we were actually driving under the floor of the lake," Jane explained, "It was somewhat lit down there until we got to the dungeon. The dungeon was dimly lit with torches and hanging dim bulbs, and it gave me the creeps!"
Bobby and Misty Take Brielle Down into the Catacombs
Brielle sat in the van as Bobby, Ashton, and Misty drove her through the tunnels. She looked outside the window at the eerily lit tunnel. Her stomach lurched and felt as if it would drop through the floorboard. Where exactly were they taking her? She remembered being escorted into the courthouse and down into its basement. She then recalled being forcibly led through a trapdoor in the courthouse basement floor and down into this dim, dank place. And during the entire time Brielle had grown up in this town, she had never heard any mention of any catacombs or tunnels underneath Thomasville until she finally saw it for herself just minutes before.
Brielle did not have a good feeling about this little trip. She feared the worst. They would kill her, and nobody would ever find her.
Finally, Misty turned around and ended the eerie silence.
"You wouldn't happen to know where Jane ran off to, would you, Brielle?" she asked.
"If you do, you'd better speak up!" Bobby demanded loudly.
Brielle Gets Welcome News
"No! I don't! That's the gospel truth! But if I did, I'd never in this lifetime tell you! Sounds like she got away if you're looking for her! And you know what? I'm damn glad she did! I always knew my baby had a good head on her shoulders and could take care of herself! And I'm damn proud of her!" Brielle shot back as tears flooded her eyes.
"Well, she may have escaped, but that doesn't do you any good. Because now, we got you. But we will find that child. Don't think we won't find your sweet Jane." Bobby growled, "Hell, we've already got Olivia and that sweet little baby Kennedy! So, we're hoping Jane comes looking for you. And we think she will. She may not be much but she's a headstrong little firecracker. Willful as hell! And it will be her undoing. You see, Brielle. Willfulness and so-called independence are dangerous characteristics to have when you live in this county. Here, it's in your best interest to go along- just roll over and play dead. And I don't know what you taught that child nor how you raised her, but you may have unwittingly facilitated her demise. And we already know you've been a troublemaker since you were knee high to a grasshopper!"
Brielle Continues to Stand Up to her Captors
"Better than being a Devil worshipper and living in an open marriage!" Brielle quipped.
Misty flinched before spinning around to look back at Brielle.
"Really! So, you think I'm a Devil worshipper, huh? And you would know about my open marriage, wouldn't you, you little slut, who's screwing my husband!" Misty shot back.
"Hey! Newsflash, Misty! Not every female in this town wants your ugly-assed husband! He isn't all you hype him up to be! Of course, with the way you and all your buddies twisted minds work, I wouldn't be at all surprised if every one of you were devil worshippers. And Devil worship is the worst thing you can do!" Brielle fired back.
"Hey, sweetheart! In case you've forgotten, sin is a sin to God! It doesn't matter what it is! No sin is worse than another to Him! But everyone has their pet sins, now don't they! And now, we know what your pet sin is!" Misty fired off.
"You're absolutely right! And your pet sins are worshipping the devil and killing innocent people and animals!" Brielle jibbed.
"No one is innocent, honey! We're all born in sin and shaped in iniquity."
Even the Devil Believes in God 
"Oh, that's right! I almost forgot! Even the Devil believes in God and knows the Scriptures! Gee! Thanks for the reminder, Misty!"
When they finally got Brielle to the entrance of the holding cells, Bobby took her by the arm and violently pulled her out of the van. Next, Misty and Ashton got out.
Misty got nose to nose with Brielle, sneering at her.
"You've been away from Thomasville for way too long, girl. 'Move off to California, then come back here with an uppity attitude and an overinflated opinion of yourself! But you know what? I'm going to enjoy killing you and your little spawn!" Misty growled.
"That doesn't surprise me in the least! You're sadistic! You're evil! You always had been, you just grew bigger." Brielle bit back.
"Oh-ho-ho-ho!" Misty sarcastically laughed, "It's gonna give me great pleasure to silence that smart mouth of yours once and for all! You should've stayed your ass in California! Because, to come back to Thomasville with that smug, overconfident attitude was your worst mistake! And it'll damn sure be your last!"
Bobby looked at both Misty and Ashton and grinned.
"She's definitely gotten smarter over the years; I'll give her that." He said sarcastically. Ashton was unmoved. Bobby turned back to Brielle.
Uppity Brielle
"You know, Brielle? You're in no position to be so brainy. You're in a lot of danger."
Brielle looked at Bobby with contempt.
"Around you? No shit," she quipped.
Bobby looked at Aston again.
"Let's dumb her down a little- teach her some respect."
Brielle ignored the threat.
"Where are my kids, I know you three have got them somewhere and you know where they are," Brielle asked in a defiant tone.
"Oh, don't worry, Brielle. They'll be well taken care of. Especially sweet Jane when we find her."