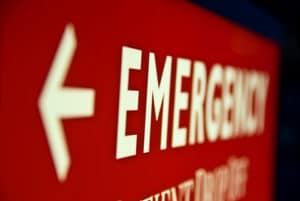 Brielle arrived home fifteen minutes later and burst through the door, anxious and terrified.
"Jane!" She cried.
"Back here!" Olivia called.
Brielle rushed into the bathroom and was horrified at the many droplets of blood all over the sink and vanity and the floor around it. She grabbed Jane's arm to have a look at the knife-wound. She noticed that the slash was about three inches across the side of her shoulder and gaping open, revealing torn skin and muscle. Blood continued to ooze from the wound.
"Oh, Lord Jesus!" Brielle gasped, "What happened, baby!"
As Jane spoke, Brielle grabbed a large washcloth and white towel out of the linin closet by the shower stall.
"Janessa Holtz, April Hart, and Samantha Criss tried to attack me as I was walking to my bus and I had to defend myself. Janessa tried to hit me with a pair of brass knuckles and Samantha pulled out a switchblade and slashed my arm with it," Jane explained.
Nurse Mom
"Olivia, go into Jane's room and find her a tee shirt! We're taking her to the hospital," Brielle instructed, "She's going to need stitches."
Olivia did as she was told, bringing back an oversized tee shirt.
"Thank you, sweetie," Brielle told her as she dressed Jane's upper arm with the clean washcloth she made into a compress and wrapped the towel tightly around the wounded arm before tying it. She then helped Jane into the tee shirt.
When Brielle arrived at the hospital with the girls, a young, twenty something nurse immediately escorted Jane back to ER 7. Brielle and Olivia followed close behind. When the doctor arrived, he gave the order and Jane's arm required sixteen stitches.
Brielle called the city police. Five minutes later, they arrived and made a report, then gave Brielle a copy.
Later, Grandma Bennett arrived, visibly worried.
"What are you going to do about this, Brielle?" she asked.
"Well, I just called the police and made a police report. They may not do anything about this. But at least, I have an official record of the attack," Brielle answered seriously.
"Or you could get the state police involved," Grandma Bennett suggested.
The Emergency Room
Meanwhile, Misty Allen Lindsay and Rita Winchester Crabtree, also nurses, were on their way back from a late lunch break when they caught sight of Brielle and Grandma talking in the hall. The two former bullies stopped suddenly, they then crept into an empty room nearest Brielle and her grandmother, out of sight. They listened closely as they hid in the vacant ER 6, the room next to the room Jane was in.
In the hall, Brielle continued to talk quietly.
"That was the last straw, Grandma. Jane's not going back to Thomasville High," Brielle swore, "I'm taking both Jane and Olivia out of Glover County Schools and enrolling them into Pathways Christian Home School first thing tomorrow."
"That sound like a great idea, Brielle. They can't continue to attend a school where they aren't safe," Grandma Bennett agreed, "And I can oversee them while you work. I'll see to it that they study their lessons. You know me, Brielle. I'm a stickler when it comes to those lessons. I was with you when you would spend the night with me on the weekends and I will be with those girls."
When the doctor released Jane to go home and the family left the hospital, Misty and Rita came out of the empty room and approached the nurses station.
Brielle Makes a Final Decision
"Can you tell us who the patient was in ER 7?" Misty asked the younger nurse who sat at the nurse's desk.
"Jane Markowitz," the younger nurse answered. "She got into a fight at school and one of the other girls slashed her with a switchblade. She had to have sixteen stitches in her upper arm."
"Were the police called?" Rita asked.
"Yes. Ms. Markowitz called the Thomasville City Police," the young nurse told them.
"We'd like to see the girl's chart." Rita said.
"Sure,"
When the younger nurse handed Jane's chart to Misty, Misty and Rita sat down, behind the long nurse's desk. Sitting side by side, they both read the chart carefully before Rita picked up the phone and dialed. She paused before speaking.
"Bobby, it's Rita. I have something to tell you that you need to know about," she informed quietly.