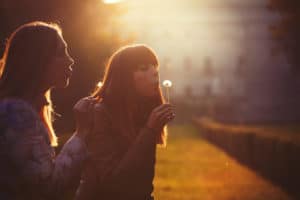 Later, back at the Markowitz house, Brielle was playing pat-a-cake with baby Kennedy, who was three months away from being two years old. When she heard a knock at the door, Bandit did his usual barking routine and dashed for the door. She got up, lifted Kennedy in her arms and carried her to the door.
As Bandit stood at the door, barking loudly, Brielle shewed his away with her free hand.
"Get back, Bandit! Go! Now!" she commanded the dog.
Brielle answered the door to find Raina on her doorstep.
"Hey! Come in!" she said with a smile.
"I hadn't seen you in a while and thought I'd come visit and we can do some catching up," Raina said, "So, how's Atticus?"
"Atticus is still at work, has been for a while. He still has pains in his back and knees. And you know he'll never see out of his right eye again. He's still wearing the eye patch." Brielle told her.
"Yeah, I heard. Give him my love when you see him," Raina said.
"He'll appreciate it."
Two Friends Talk
Bandit went to the backdoor, scratched, and barked in a high-pitched tone. Brielle followed him into the kitchen, where the backdoor was, opened it, and let him out into the back yard.
After setting Kennedy in her highchair, Brielle sat down at the table with Raina. The month of August was ending, and it was unseasonably cool outside. Brielle and Raina enjoyed the fall-like breeze that blew through the screen of the storm door.
"I don't know if you heard, but it's starting again," Raina said in a tone of concern.
"What's starting again?" Brielle asked.
"People's pets are coming up missing again. Have been for the last month."
"Oh, Lord! Halloween is in two months, and you remember what Popeye said at Grandma's the night after our court appointment. I'm lucky that I have a fenced-in backyard. But still, I'll keep an eye on Bandit. He's part of our family, has been for three years. If we lose him, it's going to devastate me and the girls- all of us,"
"I just don't understand it. Who would torture and kill a helpless animal?"
"I don't understand it either, Raina."
"Let's go out back, sit on the patio, and watch Bandit."