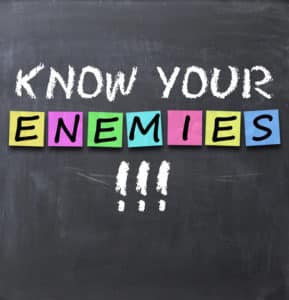 "You can tell a man's vises by his friends, his virtues by his enemies." – Ben Domenech.
There is value in having enemies. If I meet a person who has not one enemy, I'd be suspicious of that person and wonder if he/she were lying, mistaken, or a people pleaser. But if they do have enemies and (even better) are proud of that, it means they stood for something at some point in life.
Understand that everyone has enemies. They may not admit it or may not know it, but they do have an enemy out there somewhere.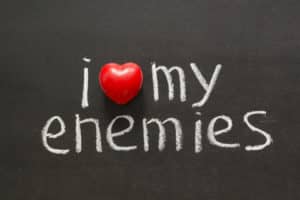 Too many people feel that they must win a popularity contest, and they go out of their way to do it. They suck up, try to be someone they aren't just to run with the pack, seek attention, and bully those they see as defective. What's even sadder is that they reach a point where they don't know who they are anymore.
They unknowingly make themselves slaves to other people's opinions and, therefore, slaves to others. This is a waste of time and too much work. Even worse, it chips away at your self-esteem. You end up letting yourself down to please others, and that's not good.
The only way you can be free is to be true to yourself and let others have their opinions of you, good or bad. Realize that opinions are just that- opinions, and they're like elbows. Everybody has them. Opinions are just as cheap as talk.
So, if you have enemies, be proud of it. It means that you've taken a stand and that you're not afraid to be different. If you have enemies and are okay with having them, then you have the freedom, and you can do anything you want. Always remember that.