In most cases, bullies have the benefit of followers and bystanders covering for them when they terrorize and brutalize their targets. Targets, on the other hand, get no leniency whatsoever, so, they must make extra efforts to keep their hands clean because, unlike the bullies, they can't afford to break any rules. IF targets dare to engage in the same behaviors the bullies do, they'd quickly be fired, expelled, prosecuted, or worse, killed.
What targets are severely punished for bullies get away with. You see it all the time- in the schools, workplaces, and communities. For a target of bullying, there's no margin for error. Targets don't have the benefit of a cheering section. And if bullies can't find anything to hold against the target, they'll make something up.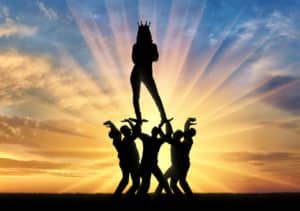 Understand that bullies and their enablers don't play by the same rules. When bullies engage in bad behavior, people are silent, and the bullies are exempt from accountability. While bullies get a pass for the worst behaviors, targets are persecuted for perceived or made up slights or normal human errors that anyone could make.
Realize that this is a clear-cut example of "bully privilege" and it's real. It's been around since the beginning of time.
During the Medieval Period, kings had scapegoats who were blamed for mistakes and wrongdoing- scapegoats, who were executed. If targets expect to defend themselves properly, they must stop being so shocked about it and realize that such things exist.
Targets must prepare and stop being blindsided because it will only throw them off balance and hinder their ability to think properly.
Realize that we live in a fallen world and one that isn't just. Also, understand that nothing is impossible and that we should expect the unexpected.
Only then will you be able to come up with a strategy and protect yourself more effectively.