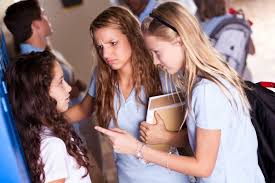 Throughout my life, I've heard and read stories of kids enduring relentless bullying in school. I've even experienced it myself. These kids try to be the bigger person…they ignore the taunts and threats and walk away. However, when this happens, bullies are persistent and will only further pursue their victims.
Why? Because bullies perceive the victim's avoidance of trouble as either fear or defiance, becoming either emboldened or angered by the passive response and more determined to "get" the victim! Bullies will only continue and escalate the harassment until a physical brawl ensues. As a result, the victim is either severely harmed or snaps and seriously harms the bully.
Only then, school officials, whom are supposed to be the adults- fair and just, find it much easier just to blame the victim. Therefore, it is the victim who gets the suspension from school while the bullies get off scot free, taking the impunity as a green light to continue the harassment.
A child in school being attacked by bullies is no different than an adult being attacked in the street by a mugger. However, an adult can successfully and legally defend him/herself against any assailant on the street and escape charges. In most cases, if an adult is the victim of a violent street crime, the perpetrator is usually identified, arrested, tried and convicted given evidence presented by witnesses and prosecutors.
On the other hand, if a child is attacked by bullies in the halls or locker room at school, most schools are only too happy to sweep the incident under the rug and deny that there is an issue of bullying at "their facility". This would be akin to the police covering up crimes against adults on the street in "their city" to make the area look safer than what it really is.
So, here are my questions:
1. If an adult is attacked on the street by criminals and those criminals are brought to justice, why then don't bullied children and teens get the same justice?
2. Why is it okay for an adult victim on the street to fight an attacker in self-defense, but not okay for a child/teen to defend themselves against bullies?
I'll leave you to ponder these legitimate questions and comment below. Have a great weekend!